Valentine's Day is a big deal here at Custom Serenade. Personally, one of my favorite things associated with this romantic holiday are vintage cards, and I have a special affinity for the strange ones. In perusing numerous old valentines, I started noticing that tucked amongst the flowers and cute puns were a lot of guns. Yes, that's right, guns! And ammo! And even artillery! Deadly weapons don't seem like natural companions for hearts and candy, but the past often seems weird, and weird is good, right? So, here for your viewing pleasure, is a collection of gun-themed vintage valentine cards.  If you'd like to celebrate VTD with a little less explosive powder and a lot more romance, consider ordering a custom song from us!
vintage valentine #1
Nothing says love like being hunted by a bug-eyed boy with a loaded rifle!
…except maybe being held at gunpoint by someone in a black mask.
strange vintage valentine #2
strange vintage valentine
Perhaps the abundance of available gun puns is the reason that they were so popular?
But then they struck gold with "aim"…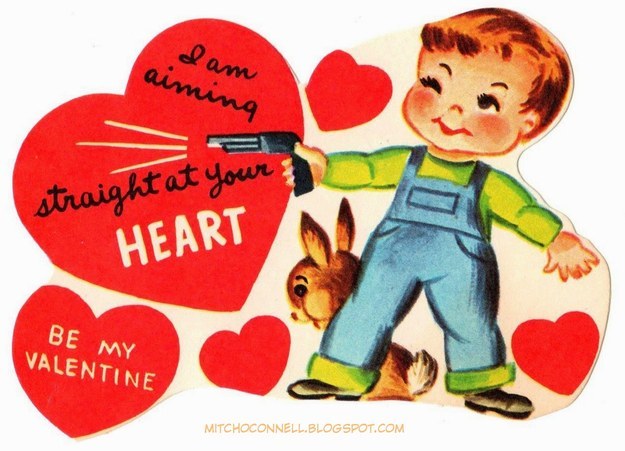 Would you like to get a custom song for 25 dollars? Follow this link!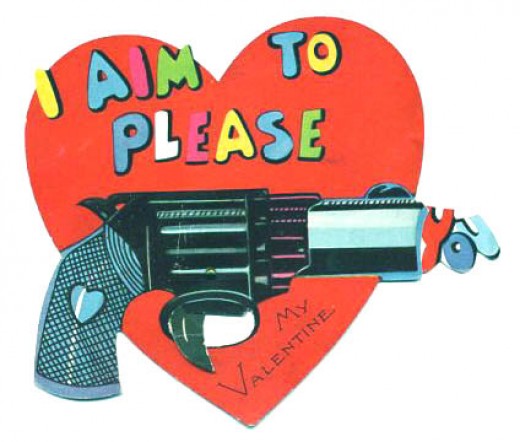 Finally, we have two suicide-themed valentines.

Pretty sick, huh?

If you enjoyed these vintage valentines and want to see something equally bizarre, check out this post that features meat-themed valentines! If you're looking for a fantastic Valentine's Day gift that doesn't involve meat or guns, how about a ordering a custom song? Regardless, I hope you have a wonderful Valentine's Day full of cards, music, and love!