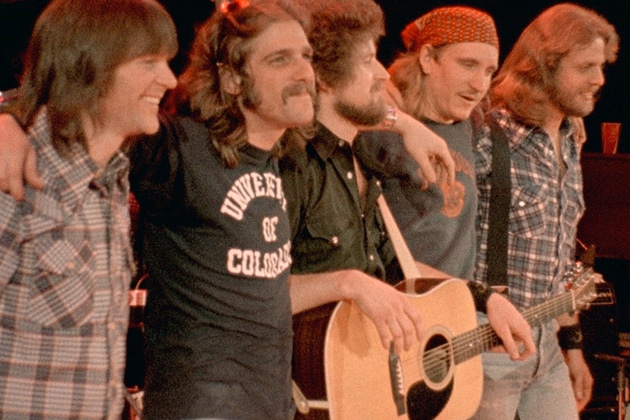 I love '80s music! At least I love what people think of as '80s music now. In reality, back in the day, things weren't all Kajagoogoo and Prince. If you lived in rural America and weren't fortunate enough to have MTV, here are some grim facts that you had to contend with: Kenny Rogers was one of decade's most successful pop recording artists. Lionel Richie, post-Commodores, filled the charts with the musical equivalent of scented candles. Jefferson Starship became Starship. Sammy Hagar joined Van Halen. Then there was Air Supply, Foreigner, Christopher Cross, and Tiffany. But nobody did more to sully the '80s airwaves than the Eagles, whose 1980 breakup spawned an unfortunate litter of floundering solo projects. Take for instance:
Glenn Frey – "Partytown"
The five-and-dime blues rock in this song is bad enough, but the lyrics are what make the stench unbearable: They go all day and they go all night, They keep on goin' 'til they get it right, right here in Partytown (yeah yeah), they really party down (yeah yeah). It's tempting to say that these words sound like they were written by middle-schoolers, but I've coached seventh and eighth-grade rock bands and believe me, the songs they write are way better than this. If ever there's a discussion about the worst song of all time, my vote goes to "Partytown."
Joe Walsh – "Space Age Whiz Kids"
Generally speaking, I like Joe Walsh. The James Gang—his band from the early '70s—is classic rock bliss, and his solo output contains favorites such as "A Life Of Illusion," and "Life's Been Good." He also provided the fuel the Eagles needed to create their very best work. But then there's "Space Age Whiz Kids," an odd assortment of synths, vocoders, guitars, and lyrics that feature a heavy 'get off my lawn' vibe geared towards the video gaming youth of the day. The video finds Walsh stumbling around an arcade with his bottom lip sticking out and performing robotically in a jumpsuit. He reminds me of Frankenstein: a cobbled-together monster, fearful and confused, lashing out at the bright lights and new sounds that surround him. That pretty much sums up the song itself .
Glenn Frey – "Sexy Girl"
I hate to harp on Glen Frey more than once, but I cannot have a conversation about bad songs without mentioning "Sexy Girl," let alone a discussion of bad songs by members of the Eagles. This time around, the numbingly cliché lyrics (I love to take her walkin', And when we started talkin', I'd tell her she's the finest I've ever seen) are paired with smarmy soft rock, thick with guitars drenched in chorus effect, electronically triggered drums, and nearly everything else that is bad about '80s production.
Timothy B. Schmit – "Playin' It Cool"
"Playin' It Cool" fits right in with the other pop hits of 1984, and that's the problem. There's nothing about this song that says, hey this is Timothy B. Schmit, the bassist from legendary adult contemporary band Poco who went on to provide a solid anchor for the personnel heavy ship that was the Eagles. The song is the very definition of generic. When we finally got MTV out in the boonies, I remember audibly groaning when the clip for "Playin' It Cool" came on. The video was just as run-of-the-mill as the song itself, and run-of-the-mill didn't cut it at a time when Animotion and Tears for Fears were possibilities.
Don Felder – "Bad Girls"
The '80s started off pretty well for Don Felder. He wrote and recorded the theme song for the film "Heavy Metal," an animated adaptation of the cult sci-fi graphic novel series. The song "Heavy Metal (Takin' a Ride) is a chunky rocker with a sprinkling of (what were then) modern effects. He must have drawn genuine inspiration from the movie's dystopian swashbuckling because when he applied the same formula to "Bad Girls" a few years later, the results were anything but inspired. The music is boring, and the tinkly synthesizer is downright annoying. Then there are the lyrics: Oh, so late at night, she comes out lookin' for trouble, Needs a shot of love, better make it a double, She's a typical young lady in need to satisfy. With words like these, it's clear that he and Glenn Frey had been drinking from the same well.
Not all Eagles solo projects tanked in the '80s. Don Henley gave us the ubiquitously loved "The Boys of Summer," and the genuinely weird "Dirty Laundry." As for the others, well, most artists suffer a mid-to-late career slump, and in the '80s, there were a lot of new tricks that old dogs had a hard time learning. So, the gods of rock can surely cut these guys some slack, but at the same time, it's a shame that their confused, post break-up output took up so much valuable air time during an era when there were not only great bands popping up everywhere but even new sub-genres of rock that deserved and needed the attention far more.