In addition to being the principal songwriter for Custom Serenade, I am also an avid music fan. Not only do I like to listen to music, I like to think about it, talk about it, and write about it. In the Songs I Love series of blog posts, I will present some of my favorite songs, and tell you why I love them.
Back in the day, I was a mixtape maniac. I especially liked making tapes for other people, and one of the best additions to any mix would be a great song that the recipient hadn't heard before; something that would send them scrambling for the hand-scrawled track list to find out who they were listening to. I had a lot of aces up my sleeve in that department, but the king (or queen in this case) had to be Cryin' Inside by The Heart Beats, a little known all girl garage band from Lubbock, Texas.
I found out about The Heart Beats from a compilation album called Girls in the Garage Volume 3, a collection of 60s bands comprised solely of women. It's a fantastic record without a bum track on it, but Cryin' Inside stood out from the very first spin.
.
One listen to the song and you can understand why. The minor key vocal melody delivered in a whispered voice, paired with the swirling organ sounds are absolute heaven for the ears. Then there's the rock steady beat accented by crisp rhythm guitar and a very lively tambourine. This song puts the groove in groovy. The lyrics are pure teen-drama bubblegum bliss, delivered with an urgency and innocence that only a teenager could muster (The Heart Beats were aged 12-15 when the record came out.)
I can see daylight in your kiss,
I can see sunshine through the mist,
I don't have your love,
but my tears pile high,
I'm smiling, while I'm crying inside.
When I first heard Cryin' Inside, all I knew about the song and the band came from a scant paragraph on the back of the album, and a picture of the Heart Beats that made me think the Brady Sisters had formed a band with Gidget.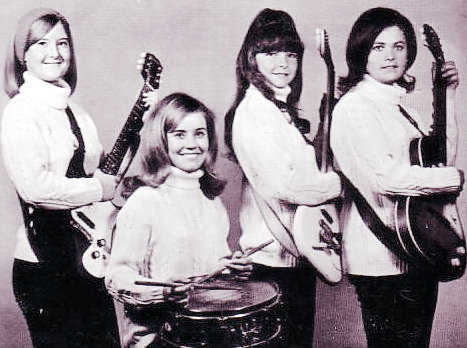 Now, thanks to the internet, there's plenty of information about the band via fan pages, wikipedia, and even a radio interview. The song itself was co-written by Ronnie Weiss of Mouse and the Traps (a frequent flyer on garage rock compilations). The band's claim to fame was winning a nationally televised battle of the bands called Happening '68.
Cryin' Inside  is a fantastic mixtape song not only because it is a great song, but also because of its versatility. It fits the wholesome image that the Heart Beats projected, but is also perfectly at home in the midst of a garage rock compilation that features bare-breasted women on the cover. It will sound great following anything from Judas Priest to Abba. It is an all around winner, and I hope that you enjoy listening to it.